Please carefully check the color, quality, and style before installation. Warranty does NOT cover products with visible defects after they have been fully installed. Any defects must be reported to the dealer or manufacturer IMMEDIATELY for inspection or replacement.
SPC boards respond to the ambient climate. Due to this natural property, you must follow the instructions below.
1. Subfloor preparation
You can install on all types of building floors, if they are dry, flat, fixed and clean, for example cement/concrete floors, ceramic tiles, etc. With other types of flooring Please contact the manufacturer for advice.
Surface flatness does not exceed 1.6mm within a radius of 3048mm.
Subfloor must not slope more than 25.4mm in 1829mm.
Inspect subfloor structure to be dry, clean, solid, and flat. Any adhesive residue must be removed to ensure proper installation.
The installation area is guaranteed as required with a maximum length and width of 10m, in case it exceeds 10m, it is advisable to create a gap and use T- molding to separate the areas.
Always keep the appropriate room temperature 45-60% humidity and 18-24°C temperature.
1.1.1 Existing flooring
SPC planks can be installed over a variety of finished floor coverings including ceramic, marble, and terrazzo. The surface of the existing floor must be in good condition and show no signs of excessive moisture. Level deep or wide grout lines with embossing leveler so it is flush with the tile surface. Do not install flooring over heavily cushioned floors or less dimensionally stable over time (wood floor, rubber cushion,….)
1.1.2 Concrete subfloors
A concrete subfloor must be dry, smooth, free from dust, solvents, paint, wax, grease and oil. The surface must be hard and dense and free from powder or flaking. New concrete slabs must be thoroughly dry and completely cured. Although SPC Vinyl Planks are not susceptible to damage from moisture, excessive subfloor moisture will create mold, mildew, or fungi under the flooring. Holes, grooves, expansion joints, or any depressions in the subfloor need to be filled with levelling compound evenly with the surrounding surface.
1.1.3 Radiant heated systems
SPC planks can be installed over in-floor radiant heating systems provided the subfloor surface does not exceed 85°F at any point. The initial floor temperature should not exceed 70°F for 24 hours prior to and 48 hours after installation. Thereafter the temperature should be gradually increased to the desired setting up to 85°F. Radiant heat systems must be operating for a minimum of 3 weeks prior to installation the SPC floor.
2. Tools required
Tools needed: Hand saw, pencil, ruler, rubber hammer.
3. Installation
Always keep the distance of the installation floor from all fixed construction parts such as walls, columns, etc. Distance from 10-12mm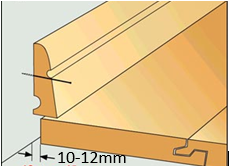 The flooring material has been pre-installed on the slab by the manufacturer, so the construction process must not use any other soft lining materials.
Before installing the floor, you should pay attention to the calculation so that the last row is not smaller than 50mzm. If necessary, you must cut the first row partially so that the last row is wide enough.
In narrow corridors, install the floor parallel to the length.
Installation direction: It is recommended to install the length of the boards parallel to the main light direction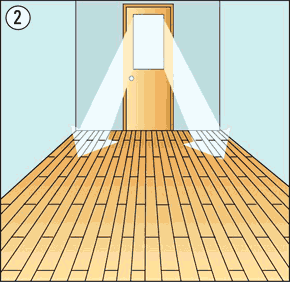 Check your floor continuously during installation. Defects are visually detectable, once installed the manufacturer will not be responsible.
Do not use pins, screws, or any other item to secure the installed floor to the subfloor
Claims for visible defective floor slabs must be made prior to installation. Each floor slab must be inspected to ensure that the quality is at an acceptable level. No claims regarding surface defects can be accepted after installation.
See more about Uniclic explained:
4. Care and maintenance
The room temperature should not exceed 100 °F and the heated systems should not exceed 85°F
Furniture should be equipped with felt pads to avoid scratching the floor.
Use walk off mats at entrances to prevent dirt and grit from being tracked onto the floor.
Sweep or vacuum the floor regularly to remove loose dirt. Avoid using a vacuum with a beater bar.
Clean up spills immediately.
Damp mop as needed using clean water and a diluted floor cleaner. Do not use harsh cleaners or chemicals on the floor.