From budgets and safety to durability and style, there are several things you need to think about when shopping for school flooring materials. The flooring used in schools needs to meet several functional requirements while still looking nice for students and staff.
Here's what you need to know about school flooring materials:
1. Requirements of School Flooring
– High Traffic Resistance
School floors have a lot of traffic. A school's floor must endure foot traffic from the student body and faculty every single weekday. A flooring type that isn't durable is likely to fall apart very quickly – definitely not something any school wants to deal with.
Durability is essential for several other reasons, too. High levels of daily foot traffic mean school floors are messy. A floor must withstand daily maintenance and should be easy and uncomplicated to clean.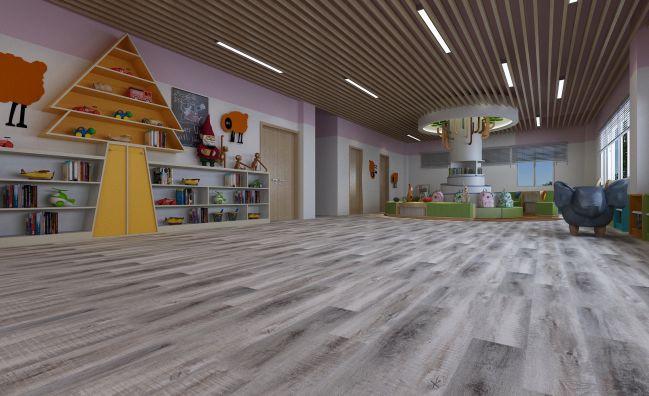 – Moisture Resistance
School floors take a lot of abuse. From spills in the cafeteria to arts and crafts to overflowing bathrooms, there are many opportunities for the floors to get wet, so moisture-resistant flooring is a must.
Safety will always be a consideration when choosing school flooring materials. Slips and trips are pretty common in schools, so some slip resistance is probably ideal.
– Cost-Effective
Schools are generally underfunded and don't often have the resources for renovations. For that reason, the flooring material needs to be cost-effective and fit within a reasonable budget. In addition, schools have to replace flooring quite often, so the replacements must be reasonably priced.
2. 2 Durable Options for School Flooring
The following six flooring materials are some of the most popular types of floors in schools:
– SPC Rigid Core Flooring
SPC flooring is a beautiful alternative to hardwood. It's affordable, durable, and water-resistant, making it an ideal flooring option for schools. In addition, SPC flooring are long-lasting and are available in many designs.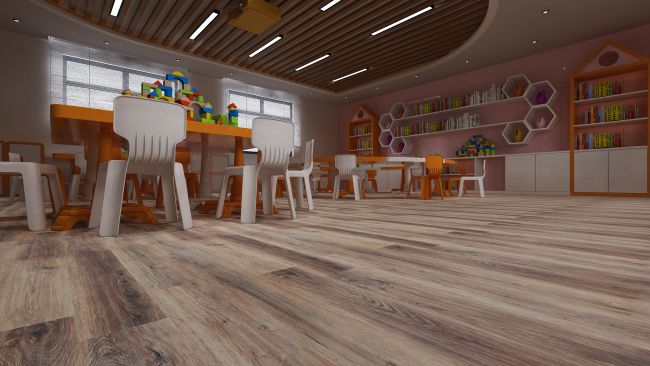 SPC Flooring is also incredibly easy to clean and simple to repair. If one plank is damaged, simply remove it and replace it with a new plank. SPC Floor is also great for noise absorption, which can be important in a school setting.
Especially, SPC flooring is made by durable materials such as high-quality PVC, superfine stone powder, that it waterproof.
SPC Rigid core flooring are entirely waterproof. For that reason, rigid core SPC floor is a terrific choice for bathrooms, cafeteria, locker rooms, and any other parts of the school that might need to endure water.
– Carpet Tiles
Carpet tiles are a great soft flooring option. There are numerous styles on the market, and they're simple to install. Carpet tiles are a great solution because you can simply remove and replace the ruined tile if it gets stained or destroyed.
Carpet tiles are surprisingly durable. Many varieties naturally resist soils, stains, and fading. As a result, carpet tiles are an ideal flooring for school classrooms, especially those for younger kids who sit and play on the floor and are more prone to trips and falls.
3. How to Get the Best Deals on School Flooring Materials
When deciding on the best school flooring materials, there's no shortage of viable options. Schools can even mix and match materials. For instance, they might choose carpet tiles for the classrooms, SPC Flooring for the hallways and the bathrooms.