It is believed that SPC flooring with enormous advantages is becoming popular around the world. Hence, An Cuong Floorings always focuses on developing and improving all types of products that meet customers' demands such as a variety of patterns (wood grain, textures, etc.) and durability. Last year, we launched the herringbone SPC flooring to enable customers to catch up with the design trends of interior floorings, create a modern living space but not feel tired of the traditional flooring cover arrangement of planks.
What is the herringbone pattern?
The Herringbone pattern appeared in the Roman Empire, where it was used in buildings its roadways. Until now, this type of pattern still has never gone away and has been used on all fashion items such as clothes, bags, even home interior.
It is a classic 90 degrees right-angled tile. The arrangement of this type is two wooden slats at a 90-degree right angle lined up with a straight spike along the length of the room or a 90-degree right angle starting from the right corner of the room.
An Cuong Herringbone SPC flooring
An Cuong Floorings, as one of the most innovative and trendy manufacturers, we produce our own series of Herringbone SPC flooring. We offer An Cuong Herringbone SPC flooring size: 650 x 150 x 4 (mm). This thin plank will bring a tighter, more detailed-looking design. The colors and textures of the planks you choose can give your room a whole different look and feel. With An Cuong Herringbone SPC flooring, you can experience all the benefits of SPC flooring in an amazing pattern.
Styles of Herringbone SPC flooring
When thinking about herringbone styles, traditional style will come to your mind. Indeed, these days, there are other appealing styles such as double herringbone or art and craft basket weave.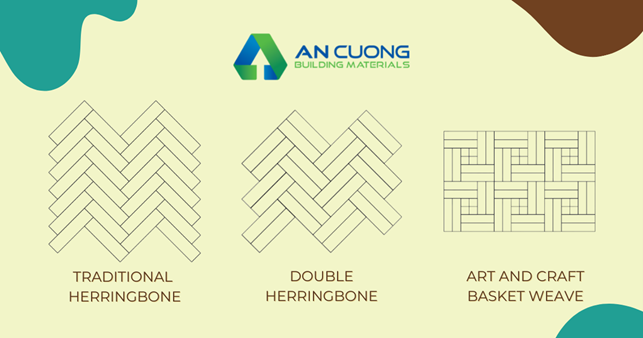 Moreover, you can combine An Cuong SPC herringbone flooring with other flooring coverings such as ceramic tiles and carpets. It is useful for subtly dividing the space to emphasize the area or to add depth to the space.
You can also hang it on the wall for another effect. In residential and commercial facilities, it can create stunning and delicate looks.
Installation, Cost & Maintenance
An Cuong Herringbone SPC flooring is applied the click lock Unilin technique. Hence, it is easy to install without glue and nails.
Just like other SPC flooring, the average cost is much less than ceramic tiles or other types of flooring. And it is easy to maintain due to its waterproof, anti-slip, and scratch resistance.