Cleaning can become a big job when you've got pets in the house. That doesn't mean your house can't look spectacular every day of the week though. You just need to know how to deal with all of the pet hair and grime your pets can leave on your floors.
Use this guide to learn more about cleaning different types of flooring in your home. A few simple tools, some basic products and a little elbow grease are all you need to keep your floors looking brand new.
SPC Click Lock Flooring
Day-to-day maintenance with a broom or microfiber duster is a must if you've got pets and SPC click lock flooring. You may also be able to use a stand-up or stick vacuum if it is approved for hard floors, but do take note that vinyl can scuff and scratch relatively easily compared to some materials.
For wet cleaning, specialty products made for SPC flooring are available. You can also add a few tablespoons of apple cider vinegar to a bucket of warm water to return your floors to their original look.
For scuffs, rubbing a little WD40 into the area before cleaning with a wet solution can make those damaged areas much less visible.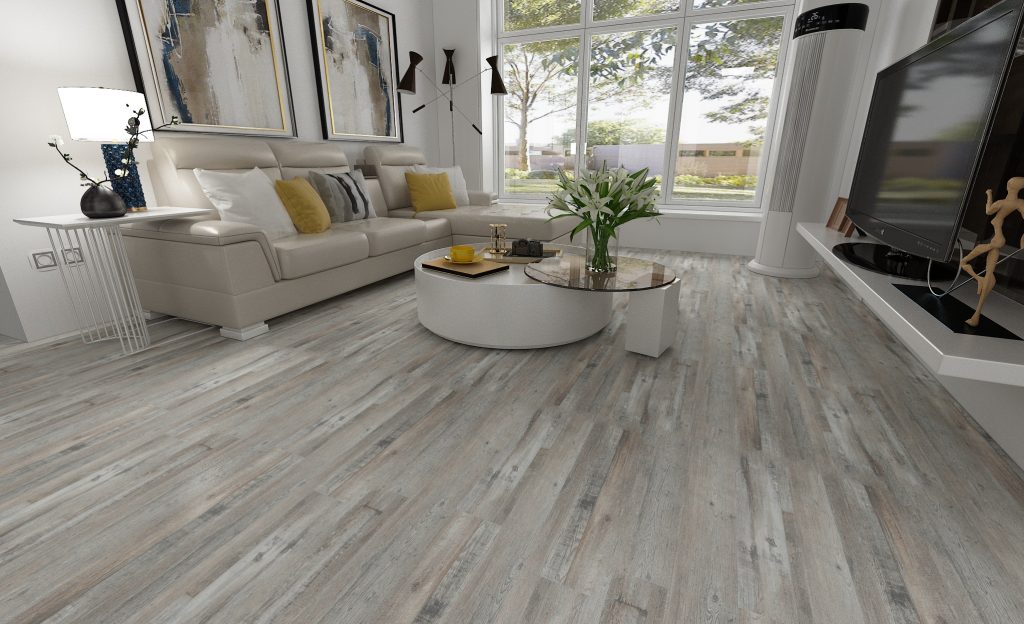 Ceramic Tile Flooring
Durable and available in lots of looks, porcelain tile flooring is a great choice for pet owners. Maintenance is also quite easy, and in many cases, simply picking up pet hair with a microfiber pad or soft-bristled broom is all that's required. However, you can use a vacuum with a hard floor setting as well.
When it comes to deeper cleaning, specialty products made for ceramic tile are a great choice. You can also combine a bucket of hot water with a little bit of vinegar and a few drops of dish soap to get your floors extra clean. Avoid using too much soap so your floors don't end up with a sticky residue or dull look.
Carpet
The carpet is soft underfoot for you and your pets. While it might be nice under your feet, it is one of the more difficult flooring materials to clean. For basic cleaning, a high-quality vacuum is your best friend. The more you use that vacuum the less you'll have to deal with dug-in pet hair residing in the fibers of your favorite carpet.
When spots, spills, and stains arise, you'll need a specialty stain remover, though you may be able to get spots out with traditional methods like baking soda with lemon. Odor-reducing products made for pet urine can also help if you've got trouble spots that attract your pets time and time again.
Reach out to An Cuong Flooring today to learn more about pet friendly-flooring for your home. Whether you're building a brand new house or upgrading your existing space, we've got a range of pet-friendly flooring options that are sturdy and stylish.