What do you do if you're looking for cost-effective flooring that's easy to care for? Wood can be high-maintenance, tiles are a big job to lay and repair, and both are expensive – so they're out of the question. As an alternative, SPC and laminate flooring are well worth considering.
Let's unpack the pros and cons of SPC and laminate flooring so you can make the best decision for your home.
SPC FLOORING
Made from one of the most versatile plastics in the world, SPC flooring is available in a variety of colors and designs. Some types are completely waterproof, which makes them a popular choice for bathrooms, kitchens, sculleries, and basements.
Pros of SPC Flooring
Aesthetic appeal—There was a time when it wasn't necessarily the most attractive option, but now there are SPC flooring that have the color of, and a similar texture too, materials such as stone and wood.
Uncomplicated maintenance—A waterproof type of SPC flooring with a thick wear layer is a great combination for a flooring option that doesn't require too much maintenance. A regular damp mop and the occasional vacuum are usually all that's required.
It's comfortable underfoot—Compared to floors of wood, stone, or tile, SPC flooring is softer underfoot, which means it's more comfortable when you need to stand for a while.
Easy to install—SPC flooring generally comes in the form of tiles or planks, which makes it easy to install without the help of a professional.
Waterproof—Some types of flooring made from SPC are completely waterproof. There are different classes of SPC suitable for different areas in the home.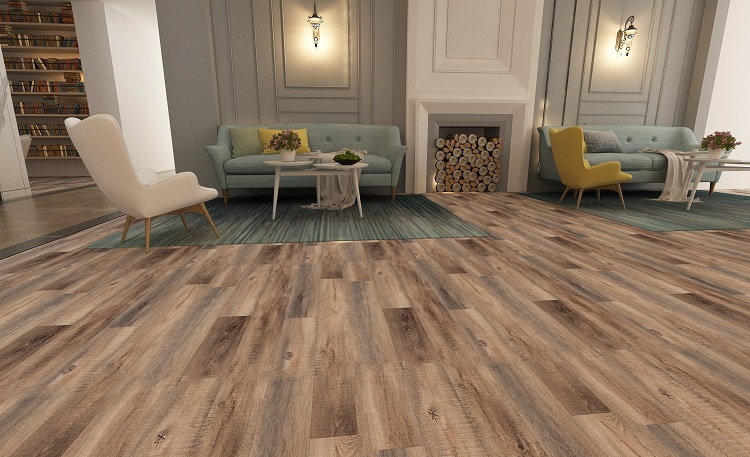 Cons of SPC Flooring
Higher price—Good-quality SPC flooring is one of the pricier of the budget-friendly options.
Cheap SPC doesn't last—Poor-quality products dent, scuff, and scratch with ease (and that's with average household foot traffic).
Doesn't feel like wood or stone—Better-quality options may look like wood or stone, but they don't feel like them. The texture remains that of SPC, no matter how convincing the appearance.
LAMINATE FLOORING
Laminate flooring is made by covering a particle board wood base with an image layer and a clear wear layer. The product is suitable for rooms where it won't be exposed to moisture regularly or for long periods, such as hallways, dining rooms, kitchens, and bedrooms.
Pros of Laminate Flooring
Looks attractive—The image layer allows manufacturers to produce laminate flooring in a variety of styles and colours, many resembling hardwood or stone. Some are textured, and others are smooth.
Hard-wearing—Good quality products are hard-wearing in typical household traffic, although it's generally not as durable as SPC. The wear layer used with good laminate flooring usually is resistant to dents, staining, scratches, and other wear and tear.
Easy installation—Like most SPC flooring options, you can install laminate flooring just as easily as a floating floor, which relies solely on its interlocking design to keep it secure.
No waxing needed—Laminate is easy to keep clean with a little know-how, bucket and mop. Unlike hardwood floorboards, there's no need to wax laminate.
Seriously budget-friendly—The option really is friendly on the pocket.
It's comfortable—Like SPC Flooring, laminate flooring is softer underfoot than floors of hardwood or stone. It's even better if your floor includes an underlayment.
Cons of laminate flooring
Can be noisy—Badly installed laminate flooring can be noisy. Rather than the warm sound you might hear if you tread on a hardwood floor, the product can sound hollow, if not a little harsh.
Poor water resistance—Laminate flooring doesn't handle moisture well, and that's no exaggeration. Despite some newer products having better resistance to topical moisture, allowing them to stand in pools of water can damage them irreparably. If your subfloor has a problem with damp or moisture, you'll need to install underlay and a vapour barrier before laying the flooring, which you should glue Avoid installing laminate flooring in the bathroom and basement.
Replace after 10 years—You'll need to replace most laminate floors roughly 10 years after their installation.
MAKE THE BEST DECISION
If exposure to moisture isn't a problem, it can be incredibly difficult to choose between SPC and laminate flooring. The following points may help:
Environmental friendliness—You can find environmentally friendlier versions of both flooring options. Choose laminate with a LEED MR4c 4.1-4.2 (recycled content) status, or SPC with a Floorscore.
Price—Although there isn't a huge difference between the prices of SPC Flooring and laminate, the latter does tend to be a little cheaper, although it doesn't last as long as the former.
Easy to install and maintain—If your flooring project doesn't require various underlayers, vinyl and laminate are easy to install, and they require little by way of maintenance.
If the style or look of the floor is more important than its ability to resist moisture, or if you're more concerned about comfort than lifespan, consider choosing laminate. If you want a floor that's waterproof and long-lasting, choose vinyl, which usually lasts twice as long as laminate.
Now that you know the pros and cons of the two options, you're better able to make the right decision for your home.