When should you replace your commercial floor?
Regardless of the material, after a long time of use, the floor will be seriously degraded, and affect the aesthetics and safety of users. If there were one or more of the following signs on the floor, it would be time to replace a new commerce flooring.
– Visible natural damage such as frayed carpet edges (if it is a carpet), scratches on vinyl, dirty grout lines that are not cleaned.
– Safety issues. Loose tile floors and warped wooden floors make the floor rough which results in unsafety.
– Massive damage due to an unexpected incident. You will not be able to anticipate force majeure events such as floods, fires, or broken pipes. These damages will cause you to reevaluate your current flooring system.
– The expiry date of the floorings. Every flooring system has a certain lifetime from 5 years to 25 years. Hence, replacing the floor system before the expiry can prevent unexpected risks.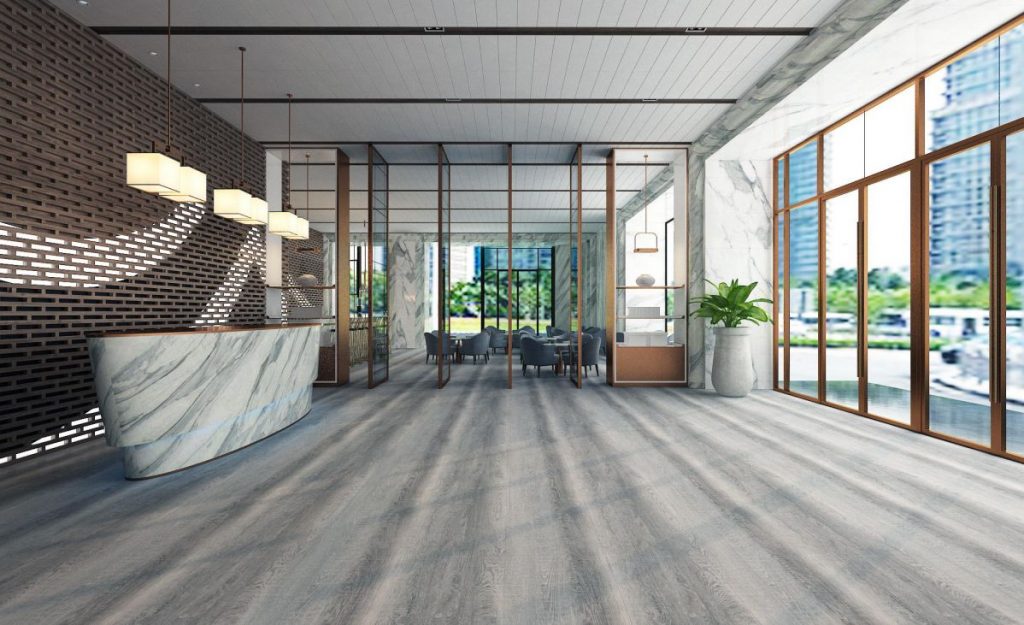 Should I re-install the same material — or change flooring systems?
If your existing flooring system is still durable and suitable for environmental conditions, you can still reinstall the same flooring material.
However, from another point of view, if you're doing the entire floor replacement process, why do you go back to the same things?
Consider the huge benefits of re-evaluating your flooring system and choose solutions that better serve your needs:
– More durable and aesthetic flooring materials
Currently, thanks to the development of technology, new materials that are both durable and environmentally friendly are invented. It's a pity that you don't use these floorboards for high-traffic areas. An Cuong has been researching and producing SPC plastic floorings for many years to fully meet the requirements of commercial floorings.
If you like to use carpet because the carpet gives a cozy feeling, but you are afraid that the carpet will quickly fray and fade, SPC An Cuong vinyl floorings could be a reasonable alternative. Besides, SPC An Cuong vinyl floorings printed with wood and stone grain patterns on them are suitable for each need of the commercial area.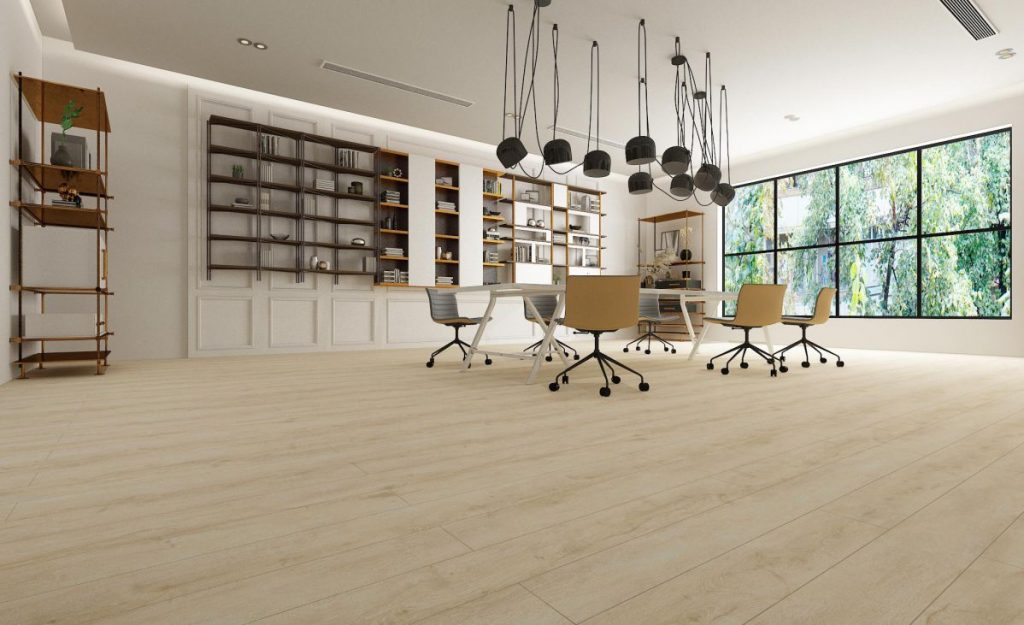 – Less maintenance, thereby saving money
Hotels are a typical example. For many years, the hotel has been very fond of carpeting on the surface of the tile flooring. When they choose to continue using such two layers, they will have to pay for the tile installation and carpet, in addition to the annual waxing maintenance costs. However, if they consider a material like SPC, which is more durable and makes significantly less maintenance, it could save a lot of money for companies.
Considerations before making the decision to replace the commerce floor
Flooring improvements brings plenty of benefits. If you choose to consider a new material, always make sure to ask the standard questions to get a new look that meets all your performance needs.
– What function should this floor serve?
– What is the maintenance requirement?
– How much is the replacement or maintenance budget?