The kitchen is the heart of the home and one space where you want to get your flooring right. With all the foot traffic and spills a kitchen experiences, you'll need a great-looking, durable floor that will last for many years to come. Considering SPC flooring for your kitchen? Read more on this topic as you compare your options for kitchen flooring.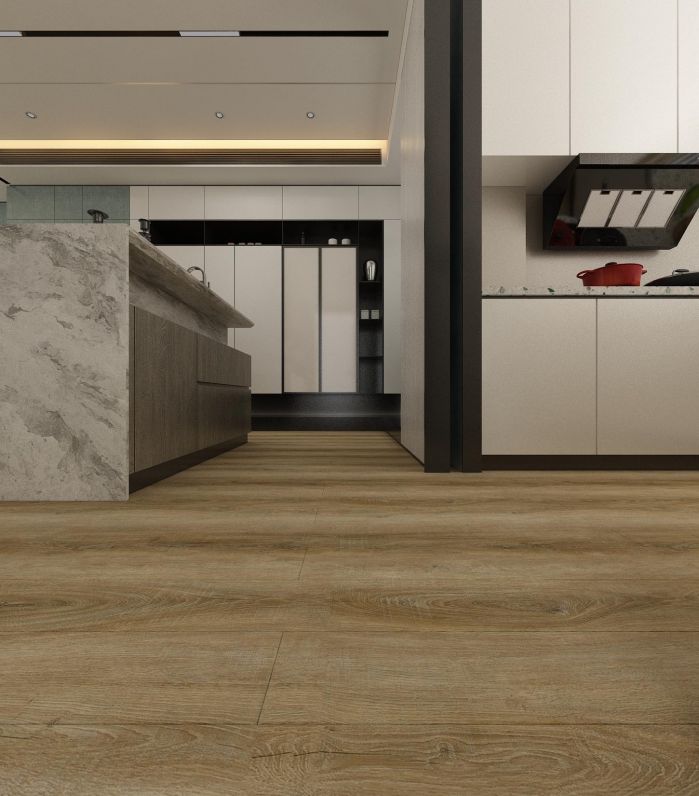 Look for a stain-resistant or waterproof floor
First of all, your kitchen flooring needs to be waterproof. Over the years, we've seen many different kinds of flooring for the kitchen, from linoleum (which is not totally impervious to water) to sheet vinyl to ceramic tile and more. Some people love the look of wood floors for the kitchen but aren't fully aware of all of the challenges a wood kitchen floor poses.
Search for waterproof flooring that gives you the look of wood floors, but without all the hassle. SPC floors are a perfect alternative to wood floors: They're waterproof flooring, so they'll stand up to all of your regular kitchen spills, and they're also stain-resistant, unlike some other flooring options.
Laminate has been used as flooring for kitchens and while the manufacturer may call it "waterproof" or "water-resistant," its core is not waterproof and water exposure can still cause bubbling and warping.
SPC flooring is an excellent choice for the kitchen. All of our SPC flooring products are 100-percent waterproof, stain-resistant, and can work well in all types of spaces.
Safety first for kitchen flooring
In addition to being appearance and waterproof, a kitchen floor needs to be safe. This is the space where you may drop a dish or pot of spaghetti noodles on more than one occasion—how will your floor respond to it?
Ceramic tile has been a popular choice for kitchen floors for many years because it's long-lasting and can handle spills, but if you drop something on the floor, you can potentially get cracks, chips, and broken tiles that would need to be replaced. However, not so with our SPC floors.
With SPC floors, you get an aesthetically pleasing floor, but with less worry. Spills and mishaps can damage the finish or cause dents on wood floors. Likewise, stone floors may be hard surfaces, but they're porous and can stain easily.
Also, consider slips and falls. You don't want to run the risk of slipping in the kitchen while pulling out a roast turkey from the oven. An irregular stone floor or a slick surface may be easier to trip over or slip-on. A floor such as SPC flooring with some texture can help prevent slips and falls.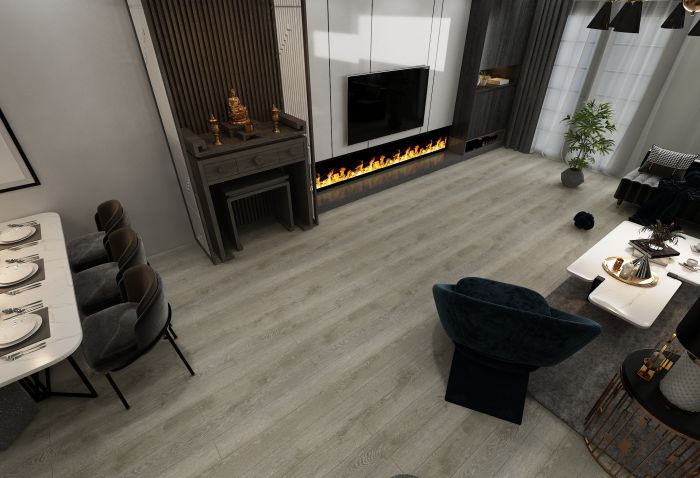 Low maintenance
Whether you're tracking in dirt and grime from the garage or the outdoors, the kitchen is a space that gets dirty fast. You want an easy-to-clean kitchen floor with minimal maintenance. Flooring such as SPC flooring for your kitchen that only requires a damp mop cleaning is the easiest kitchen floor to maintain, making it a family-friendly and pet-friendly floor.
Comfort is important
You spend a lot of time in your kitchen, cooking, baking, doing dishes, entertaining, etc., so you'll want your kitchen flooring to be comfortable. Concrete floors have been trendy for a while, but it's also very hard, which can strain your back and joints.
With the latest innovations in flooring, you have so much to choose from. Resilient floors, like our SPC floors, give you the best of both worlds: a stylish wood look but added comfort with the underlayment. Its 0.1-0.7mm wear layer is commercial grade and is highly resistant to scratches, and daily wear and tear.
Invest in quality and beauty
Kitchens are one of the most expensive rooms to remodel, but you want your kitchen to look its best. Invest in key materials such as cabinetry and flooring to get the most return on your investment.
SPC floors have come a long way from sheet vinyl origins is ideal for kitchens. With so many options to choose from in luxury SPC flooring, you're sure to find something that blends in well with your design style, that's also durable and easy to install.