#1 "Printed decor of SPC Flooring can look repetitive once laid"
Unlike many other manufacturers, An Cuong Flooring makes sure our products offset the print each time, meaning that the same feature (for example a knot in the wood) will feature but will be in a different position each time, resulting in completely unique planks. This eliminates the overall pattern repetition, meaning the flooring has a more authentic look, as no two planks are the exactly same.
#2 "SPC floors are outdated and unattractive"
No way! An Cuong Flooring is proud to have some of the most stylish SPC Floor in the market. SPC Flooring these days is able to mimic stone, wood, and carpet and has more long-term benefits than all of them put together!
We have an in-house design team that forms a colour collection and take the hottest trends and styles and then produces them into beautiful planks that are the epitome of modern interiors.
There are lots of instances where we have had people not be able to tell the difference between some hardwoods and our SPC flooring.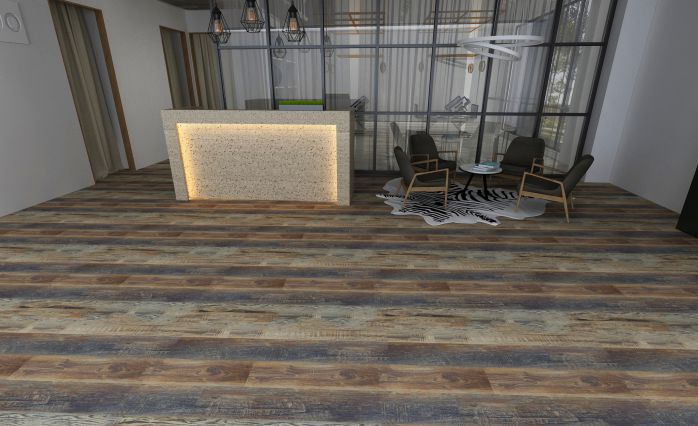 #3 "SPC Flooring and Laminate are the same"
In many respects, yes. But while they have much in common there are a few very important differences that set them aside from one another. Before you jump into a flooring project, it's probably a good idea to get an understanding of the basics to help with your decision.
First, the composition of both is VERY different.
SPC flooring is a newer innovation that makes it a far cry from the plastic you see in older homes. It's made of high – tech compound materials from PVC and superfine powder while the top layer is coated with UV and wearlayer to increase scratch resistance and ease of cleaning.
Therefore, it's better suited for imitating materials like timber, stone, granite, and concrete. This composition gives it superior resistance to moisture as it doesn't contain absorbent fibers. When considering moisture exposure, SPC flooring is a clear winner. It also has a longer lifespan and overall durability.
Laminate is a compressed fibrous product that simulates the look of real hardwood. It's composed of several layers of rigid, high-density fiberboards that are laminated together into planks.
Laminate flooring doesn't last as long as SPC floor and in many cases, needs to be replaced within 10 years of installation. The image on the surface is not protected by a wear layer, unlike SPC floor.
Both are comparable when it comes to cleaning, installation, and cost but in terms of being quieter underfoot, SPC Floor is better at absorbing more noise compared to laminate.
To summarize, SPC flooring is a better choice when you need water resistance, lifespan, and durability in your flooring.
#4 "SPC floor is not suitable for a Kitchen"
Quite the opposite.
Thanks to its strong surface layer, the SPC floor is the ideal flooring for intensely used and wet rooms such as kitchens and bathrooms.
SPC floor also ability in slip-resistant to help safe use.
SPC floor will be unaffected by the humidity of the kitchen area. In fact, it is particularly suitable for high moisture and humidity rooms like kitchens or bathrooms. It is very easy to maintain and you can remove any spillage with a wet mop, making it an ideal choice.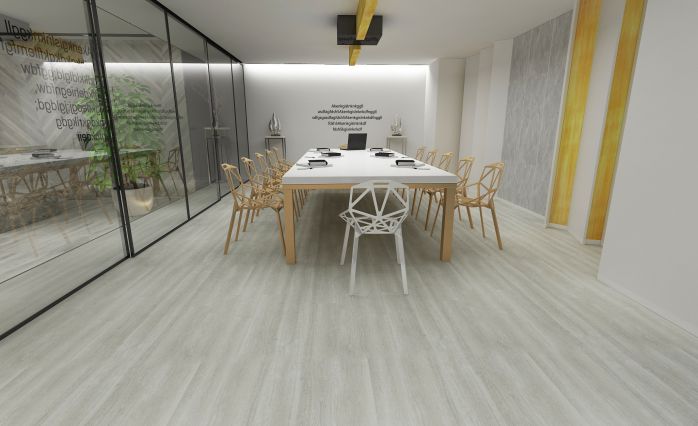 #5 "SPC Flooring is not Durable"
Absolutely not!
Both SPC Flooring and ceramic tile are known to be durable flooring options. However, ceramic can chip and crack over time. Ceramic tile is more prone to damage (think dropping something heavy on the surface) than SPC Flooring. SPC Floor is also a better option if you have children or pets.
Our Commercial ranges are also designed with quality, durability and style in mind. An Cuong Flooring range of commercial SPC floor is suitable for a wide variety of commercial applications including retail, healthcare, education, IT, and commercial interiors.
There are strict flooring safety standards for us to adhere to, and we always meet each one with flying colors.
We work hard to ensure our flooring will last for years to come.