The flooring in your bedroom is a particularly intimate surface. It is the first thing your bare feet step onto in the morning and the last thing they touch before climbing into bed each night. The effect that bedroom flooring has on a person is both physical and psychological, making your choice of materials a particularly important design decision.
There are many criteria you can use to choose the best bedroom flooring material. Some of these may be obvious, such as the feel of the floor underfoot, or its visual appeal. You may also be concerned about environmental issues—does the flooring off-gas chemicals, is it created in a green manner, and will it be recyclable someday when it is time to replace it? And there are also care and maintenance issues, as well as longevity to consider. Some of these elements may be more important to you than others, but all should be considered when you make a flooring choice for your bedroom. Every flooring material has both advantages and disadvantages, including the three most popular options for bedroom flooring.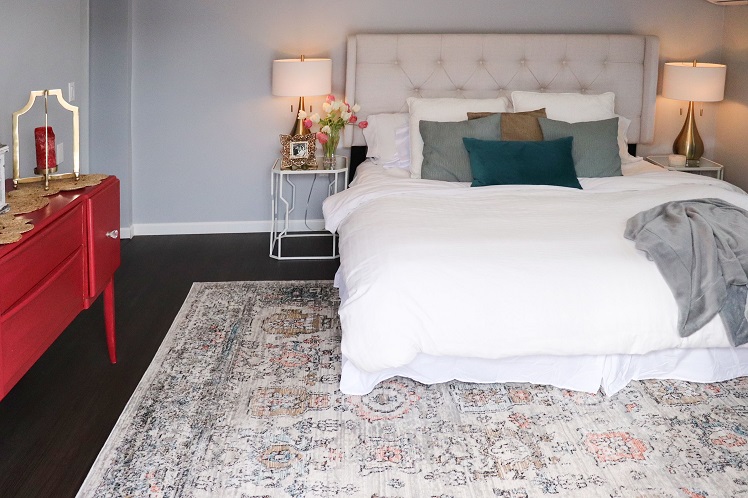 Carpeting
Carpet is a very popular choice for a bedroom flooring surface in North America and many other western nations, largely because it is soft and warm on the feet—an obvious advantage in a room where you are often bare-footed. That tactile comfort helps to create a sense of lush luxury in the room while also protecting you from cold toes on chilly winter mornings. But there are other reasons that carpet is popular, as well as some reasons you might not want to use it.
Pros
Thermal insulation: Carpeting, combined with a good-quality pad, can insulate a floor against heat loss, ensuring that the bedroom will remain toasty warm.
Sound-dampening: In a room where you sleep, carpeting can absorb outside noises and keep a bedroom quieter. Carpeting is the very best flooring for this.
Economical: Price is another factor that makes carpeting in the bedroom so popular. In recent decades, the manufacturing process has gotten so efficient that the cost for low-end materials can be as low as $2 to $3 per square foot installed, considerably cheaper than most other options. Keep in mind, though, that the price for higher-end specialty materials, such as wool carpeting, can be quite a bit higher. And carpeting has a shorter lifespan than some alternatives, such as hardwood.
Cushioned surface: This can be a matter of safety in bedrooms used by children or older adults since a fall on carpeting is unlikely to cause injury the way that a hardwood floor or other rigid surface can do.
Cons
Difficult to keep clean: Liquid stains can seep deep into the padding and remain permanently. And carpeting tends to attract both dust and small microscopic organisms, which can compromise to the air quality of the bedroom.
Traps allergens: Carpeting can trap pollen and other allergy-causing particles. No amount of deep vacuuming can completely remove allergens that become trapped deep in the backing and padding of a carpet. Carpeting is not a good choice for the bedrooms of allergy sufferers.
May off-gas chemicals: Although carpeting manufacturing processes are much better than they once were, some carpeting can still off-gas chemicals such as formaldehyde, especially when the carpeting is new. For people with chemical sensitivities, this can be a serious health concern.
Usually not recyclable: Although some installers will haul away old carpet when they install new flooring, this carpeting—and the synthetic materials used in its manufacture—are usually destined for landfills.
Vinyl SPC Flooring
Whether it takes the form of sheet vinyl, vinyl tiles, or newer luxury vinyl flooring (LVF) tongue-and-groove planks, vinyl SPC Flooring is a surprisingly versatile flooring choice for bedrooms. This is no longer a flooring reserved only for bathrooms and kitchens. A wide variety of looks is now available, with luxury vinyl SPC flooring products that are almost indistinguishable from wood, ceramic, or stone.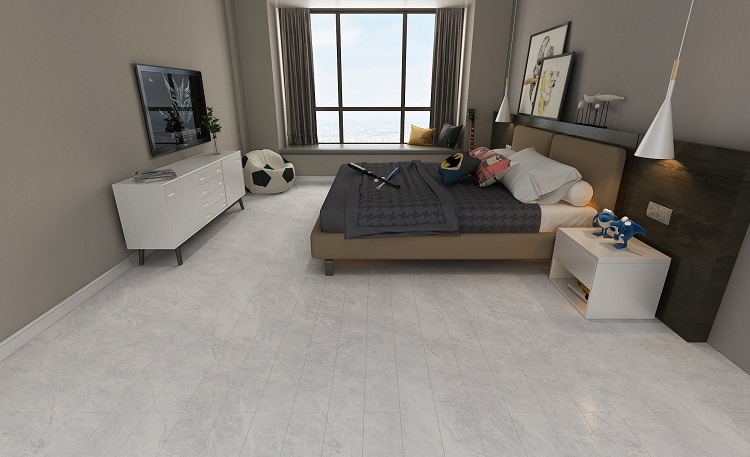 Pros
Nearly waterproof: Although this is more important in bathrooms and kitchens, the waterproof nature of vinyl SPC Flooring may be of value in bedrooms with adjoining en suite bathrooms. The waterproof nature also makes this flooring easy to clean.
Easy maintenance: Bedrooms are relatively low-traffic rooms, and vinyl is easily kept clean by sweeping and occasional damp mopping.
Somewhat soft: Although not as soft as carpeting, vinyl flooring is the second-best choice in rooms where you are concerned about someone falling.
Easy installation: Vinyl flooring, especially tiles and luxury vinyl planks, are relatively easy for DIYers to install.
Affordable: According to national averages, sheet vinyl costs about $3 per square foot to install, while luxury vinyl planks average about $8-9 per square foot, though these costs are much reduced if you install the flooring yourself. This puts vinyl flooring at the low end of costs for recommended bedroom flooring.
Relatively long-lasting: Because bedrooms are relatively low-traffic areas, a good-quality vinyl floor can easily last 10 to 20 years.
Cons
Although it's Durable, Vinyl Plank Can Be Dented: Overall, vinyl is a super durable type of flooring. But you knew that already! Unfortunately, vinyl plank does have one big weakness: if something heavy and sharp hits it hard enough to penetrate the wear layer, the entire plank will be dented forever. This can also apply to heavy furniture that rests on vinyl plank for long periods of time.
Resale Value Isn't as High as Hardwood's: It's important to remember that a lot of factors go into how resale value is calculated in a home. And vinyl plank does add resale value. But on average, it does not add as much value as solid wood does. Again: It adds resale value, just not as much.
Can Be Susceptible to Discoloration and UV Damage: The disadvantage of vinyl plank flooring we want to cover: sun exposure. Basically, some types of vinyl plank need to be treated like vampires. We just mean that some products can fade when exposed to direct sunlight for long periods of time.
Laminate Flooring
Laminate flooring is made from a thin layer of plastic laminate printed with a design layer, bonded to a base layer of high-density fiberboard (HDF), and topped with a clear wear layer. It is a remarkably versatile material that can be manufactured to look like almost any material, including hardwood, stone, or even metal. Laminate is probably the best option for a DIY floor installer as it's made specifically for easy installation. It's also a low-cost alternative that still offers an attractive appearance.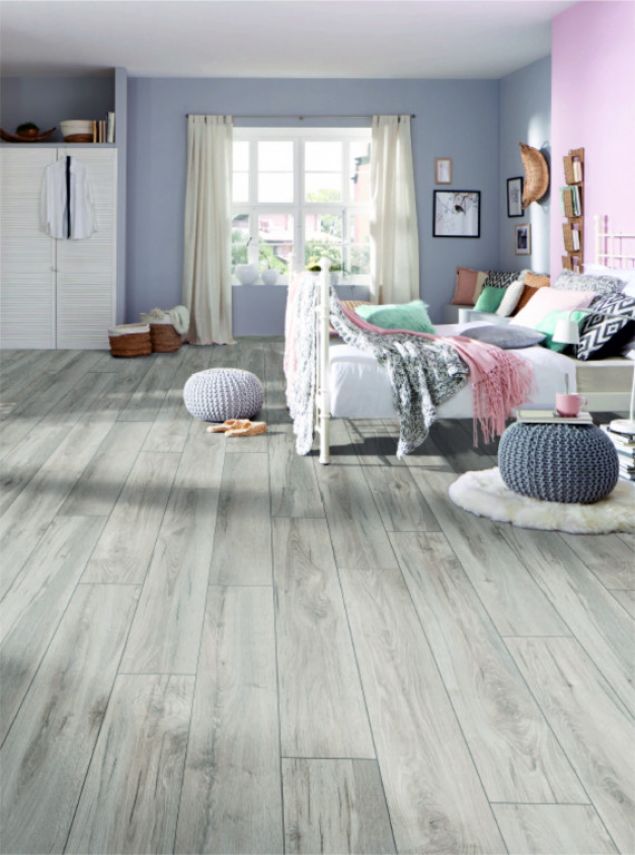 Pros
Easy to install: Laminate plank floors use a modified form of tongue-and-groove connections, sometimes known as "click-lock." This is one of the easiest flooring materials for careful DIYers to install, though surface preparation is critical.
Many design choices are available: Laminate flooring has now been around for decades, and manufacturers offer an almost infinite range of styles and designs, many of which are fairly good mimics of hardwood or natural stone.
Inexpensive: Good laminate flooring can usually be purchased for less than $3 per square foot, with installation adding $2 to $8 per square foot. With total costs that are usually well under $10 per square foot, laminate flooring is only slightly more expensive than vinyl.
Cons
Can be scratched: Over time, it is almost impossible to avoid scratching the clear wear layer on laminate floors, as owners of active dogs with unclipped toenails can attest. Better quality laminates have thicker, more durable wear layers, but even with these, the floors will eventually get scratched.
A hard surface: Although they can closely resemble hardwood, laminate floors have even less resilience than wood, and a fall on a laminate floor will hurt and perhaps injure. This may not be the best choice in a bedroom for young children or older adults.
Difficult or impossible to repair: Unlike hardwood, laminate flooring is almost impossible to repair when the damage becomes extensive. While it is theoretically possible to disassemble and replace individual planks, it is more common for the entire floor to be removed and replaced. And unlike hardwood, which can be resurfaced several times, laminate flooring cannot be refinished.
May have a "cheap" feel: When they were first introduced, laminate flooring was an innovative product that was seen as somewhat high-end, but in today's real estate market, laminates are sometimes viewed as a bargain-basement choice when compared to hardwood, porcelain/ceramic tile, or even luxury vinyl.
Not a green product: Laminate flooring is plastic, and like most plastics, it can take many, many years (perhaps centuries) to break down in a landfill. Unfortunately, there is almost no recycling market for old laminate flooring thus far, and when discarded it usually winds up in those landfills.