With steam and splashes, your bathroom floor sees a fair amount of wear and tear. We know that it is important to have a durable, waterproof flooring style. We have broken down our favorite bathroom flooring styles, to make your decision process easy.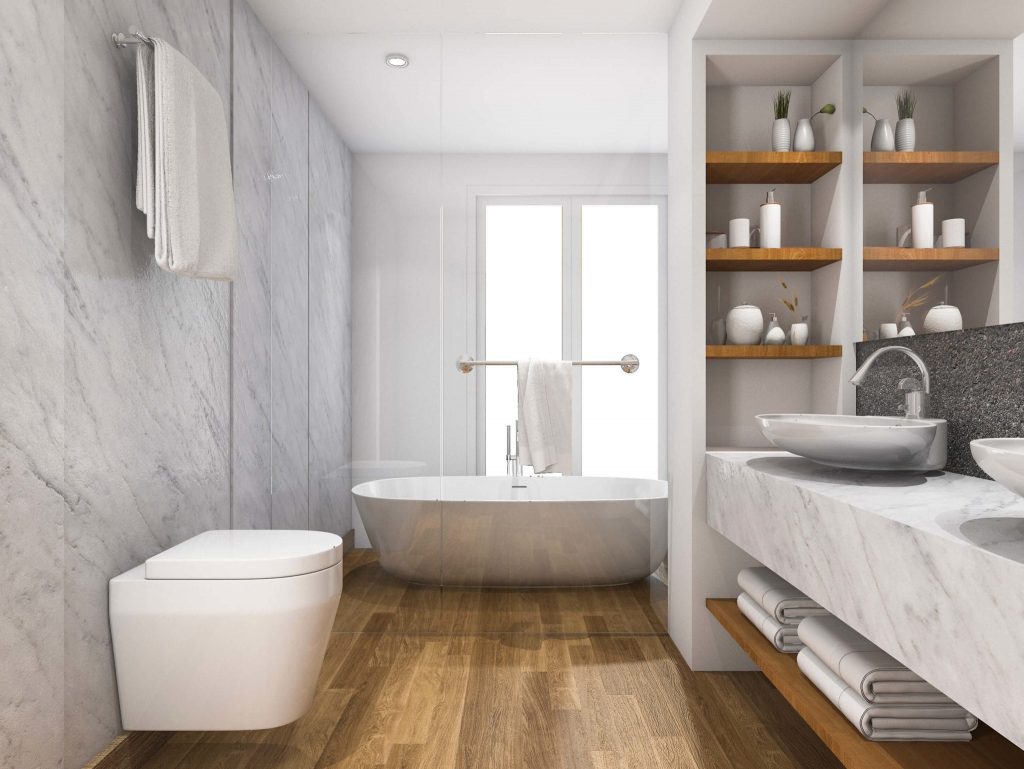 Tile Flooring
Available in a wide variety of shapes and styles, porcelain tile is one of the most versatile bathroom flooring options. From a white matte tile to a fun patterned mosaic, porcelain tile can capture any flooring design. Tile is a relatively low-maintenance flooring style with simple tips to keep your tiles clean.
Wood-Look Tile
Hardwood flooring is one of the most popular flooring styles; however, its tendency to warp in moisture-prone areas means that you should avoid installing it in your bathroom.
If you love the beautiful aesthetic of hardwood, consider installing wood-look tile. Its incredibly realistic appearance will give you the beauty of hardwood with all of the benefits of tile.
Natural Stone
If you are looking for a luxurious tile option, then consider installing natural stone tile bathroom flooring. No matter what style of natural stone you opt for, each tile will be completely unique. Some of the beautiful types such as marble tile, slate tile, etc.
Although natural stone needs to be regularly re-sealed, the beauty of it is well worth the extra effort.
SPC Flooring
Advancements in technology have given luxury SPC flooring an incredibly realistic appearance. From tile to hardwood, you can have the aesthetic you love with an affordable price-point.
An Cuong SPC floor structure consists of 5 layers, with the main component being SPC hard core – made from superfine stone powder and high-class plastic, ensuring waterproof. You do not have to worry about moisture or spills in daily use.
An Cuong SPC Flooring is waterproof and incredibly durable. Regardless of your budget, it is a great bathroom flooring style.